Welcome to the Official Site for Monster Trophy Whitetails TV.  The 2016 Hunting Season is here.  We will be kicking off our season in KY with some Bow hunting so we are fired up and ready to go.  Wanna be healthy and fit?   Then check out our New TV show LIFEGUARD TV which can be found on our YOU/Tube  channel Dr. Jimmy Steger/Lifeguard TV.  This show will open your eyes and help you get healthy and in shape all the way around.  Our New Survival Straps are ready for you to see so check them out, they are awesome. Our new Lifeguard TV.net site is now up, check it out. We would like to Welcome our Two new Sponsors, Around the Home and Farm with the All new All four One Livestock feeder and Outright Hunting Products Morph-Pro Bow Hanging system.  Two great products that we are very excited about so check them out @ Aroundthehomeandfarm.com and Outrighthunt.com. Don't forget to Follow us on Twitter and go to our Facebook page, LIKE US and we will keep you posted on what's new and upcoming this year.  Hope to see you in the woods with a Big MTW.  Happy safe hunting,  God Bless you all  and thanks for your support !
Dr. Jimmy Steger ,  Team MTW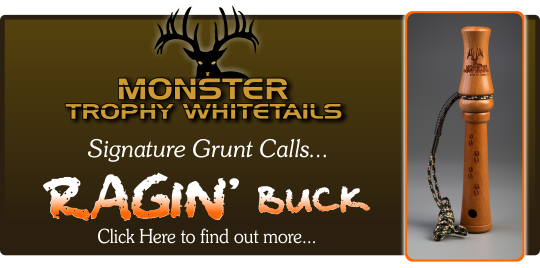 If you are truly interested in BIG Whitetails then this is the show for you and your family. We continually go after those MTW's each week on the show in hopes of harvesting another big one.  I want the audience to see and the hunter to experience the thrill that we on Monster Trophy Whitetails are living each week. So get ready,  the best is yet to come, we have seen some Monster's which are bigger than the ones I have already harvested, and some of our guest have taken some smoking Big Bucks also. Most days we spend 12-13 hours in a tree stand or blind in hopes of one of these big boys will come out and give us a opportunity to harvest another Monster Trophy Whitetail. We are hunting them every week and it's just a matter of time. We certainly hope you are watching if and when that time comes.  The 2015 Hunting season will be here before you know it so get ready for some more exciting shows coming at ya.

We have taken some great guest hunting with us this year and we have had a great time with each and every one of them. If you too are interested in hunting Monster Trophy Whitetails with us, then give us a call @ 251-660-1240  and book your hunt today. Space is limited so pick up that phone today and book a Monster Trophy Whitetail Hunt of a Lifetime! Remember to take a child hunting because they are the future of America. We should all work together to preserve this great sport and to help the future generation of hunters to become responsible and dedicated to enjoying the outdoors.
Genesis 27:3
Dr. Jimmy Steger,  Team MTW